Hannibal, MO Sightseeing
No matter the length of your visit, a variety of Hannibal tours await. The sights and sounds of Hannibal have been documented through Mark Twain's books, capturing the imagination of millions of readers. Blend the history of Mark Twain with the Hannibal tours of today. A variety of Hannibal, MO sightseeing attractions and ideas are waiting for you.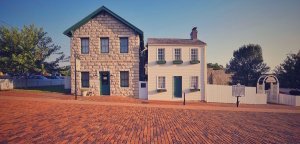 Explore the roots of Twain on this self-guided tour of eight museum buildings, including Mark Twain's childhood residence. These unique Hannibal Tours give you some of the best glimpses into the life of a literary legend. Learn more about the Mark Twain Boyhood Museum & Museum Properties.
Take a tour inside Hannibal's newest attraction! Karlock's Kars & Popular Culture showcases a collection of several classic cars and iconic items from famous movie props to Steve McQueen's motorcycle! Learn more about the newest of Hannibal tours!
Experience these one-hour, historic Hannibal tours that guide visitors through the very cave that Mark Twain made famous! Learn more about this unique Hannibal sightseeing tour and walk in the footsteps of Tom and Huck. Learn more about Mark Twain Cave now.
Enjoy Hannibal, Missouri sightseeing on the Mississippi River during a 1-hour narrated sightseeing cruise down the river or a 2-hour dinner cruise complete with dancing. Learn more about this unique Hannibal, MO sightseeing tour here!
Can you escape? Hannibal's escape rooms are designed to transport you into another world, where you are "trapped" for an hour of exciting fun! This is Hannibal mo sightseeing like you've never experienced before! Click now for details.
Part wax museum, part haunted house, these Hannibal ghost tours are sure to make your spine tingle. This is a must-see on your Missouri sightseeing trip. Both the young and young at heart will enjoy a visit to the Haunted House on Hill Street. Learn more!
A 14-mile Hannibal, MO sightseeing tour provides a great overview of Hannibal's most notable attractions. Hop on the old-fashioned trolley ride at one of the many historic sites in Hannibal or our depot in the Downtown Historic District. Learn more about Hannibal Sightseeing Tours with the Hannibal Trolley Company.
The turn-of-the-century Rockcliffe Mansion offers an impressive hour-long docent Guided Tour.  This breathtaking Gilded Age Mansion houses many original furnishings, priceless L.C. Tiffany lighting fixtures and stained glass windows, and a fascinating history.  Learn more!
Explore the "other side" of Hannibal on a spooky ghost tour! Once aboard the shuttle, you'll set off for the spookiest Hannibal, Missouri sightseeing experience imaginable, hearing stories of murder and mischief during Mark Twain's boyhood and searching for signs of paranormal activity in Hannibal. Are you brave enough for these Hannibal tours? Learn more.